PRIVATE PARTIES
leaving your guests
with the brightest of smiles
and happiest of memories.
– Private Party Package –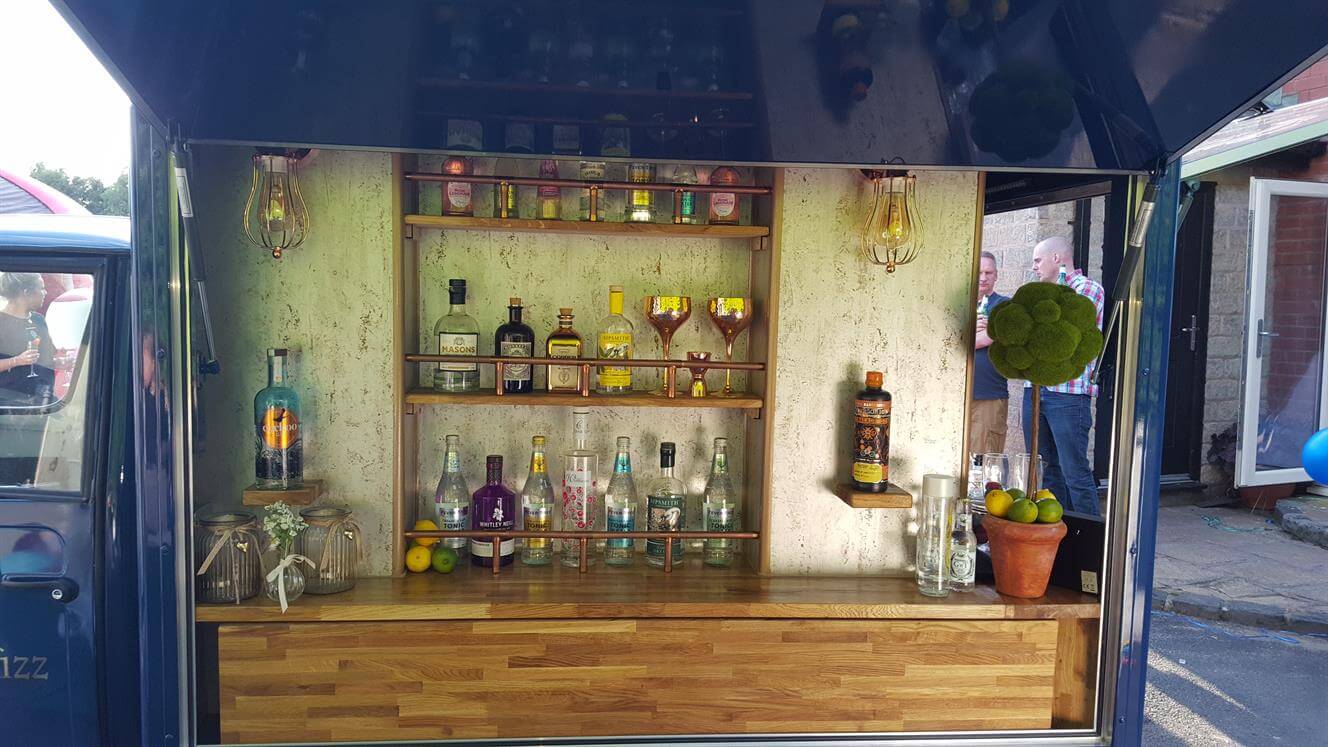 Want to hire our unique van for your own party? Whether it's a big birthday bash, family celebration, summer BBQ or evening party, our cute Italian Piaggio van would add something very special to your event.
Gino has two on board taps that can serve chilled Frizzante and premium lager, not forgetting an elegant and fashionable Gin bar celebrating the produce of local Gin distilleries paired with premium tonics. Our professional staff will work with you to establish a drinks package and provide a first class service that is perfect for your event.
Gino the Piaggio van will be sure to wow your guests!
- Frequently Asked Questions -
Learn How Hiring Copa Fizz Works!
What sort of events do Copa Fizz hire to?
CopaFizz is perfect for a wide variety of different events, from weddings, corporate hospitality, garden parties, outdoor cinema, carnivals, birthday and anniversaries parties, festivals, outdoor concerts and equestrian events.
Can I design a mobile bar package for my event?
Yes. The fact that we can offer a customisable mobile bar package provides you with the ultimate in flexibility. Depending on what is right is for you we can provide prepaid bar service, a cash bar or a hybrid of the two.
When we operate a cash bar we have the facilities to take card payments.
Do Copa Fizz provide staff?
Yes. Your hire package will always include 2 members of trained staff. For larger events, we will bring the staff accordingly.
Do I have to pay a deposit?
Yes. In order to secure your booking, you will need to pay the deposit per the booking terms and conditions. A date is only secured by making this payment. You can do this by bank transfer. Once you have paid this deposit, you will receive an email confirmation of your booking.
What facilities do we need to provide on-site?
Ideally, power must be made available access to a domestic power point. If this is not possible for you, then we are able to provide a generator to provide power. A small additional fee may be payable for this.
What happens if I need to cancel for whatever reason?
Your deposit is non-refundable, and you would need to cancel your event at least 48 hours prior to the planned date of the event to avoid incurring any additional charges to this.
How much notice do I need to hire Copa Fizz?
Due to the popularity of our mobile bar service and the limited number of weekends and bank holidays it is important to book ahead as far as possible. We take bookings 12 months ahead of time. The shortest timescale for hire is dictated by the licensing process so we would always need to comply with the legal standards.
Who decides on the drinks you serve?
Wherever possible, we do our upmost to accommodate your preferences based on budget and taste, we are passionate about using local and regional spirits, mixed in with some more well-known brands. We will agree at the booking stage what we will be serving.
Do I need to apply for any licenses?
If your event requires a temporary event notice for the sale of alcohol, we are able to apply directly for this on your behalf. The licensing costs are included in the hire package.
Do Copa Fizz provide glasses?
Gino our mobile bar van is fully stocked with premium disposable glasses, many of which can be re-used for your return drinks and recycled by us afterwards. We can provide glassware where there is access to washing facilities at the event. Please speak to us about this and we will see what we can do accommodate your request. Note there will be additional charges for this service.
When do I need to pay the balance?
Any outstanding monies or balances will be invoiced a month before the event date.
Do Copa Fizz offer soft drinks?
Yes, though our range is limited. Please ensure at the time of booking you make it clear if you require soft drinks and we can discuss your requirements.
Do Copa Fizz have public liability insurance?
Yes. We are covered to £5 million.
How much space do I need to host the bar van?
Subject to access it is possible to use the van both in and outdoors. Openings are required to be at least 1.6m wide and height clearance needs to be 2.25m.
There needs to be sufficient space around the back of the van to open up the 3 sides and move around safely (the doors are hinged to open upwards).
Corporate Events
We pride ourselves on our service and hospitality and look forward to adding that extra sparkle to your special event.
Wedding Celebrations
A professionally run mobile bar delivered from our beautiful Italian Piaggio van. Keep your guests' glasses charged, fully stocked bar and beer on tap.
Private Party Booking
Book our Piaggio van, friendly and professorial staff and make your party one to remember.